MasterList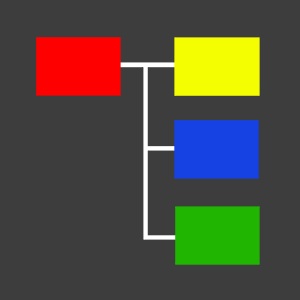 MasterList is an application that lets you organize anything. It lets you make and use lists that contain other lists, short text items, notes, numbers, phone numbers, dates, URL's, email addresses, etc.
The program never uses the Internet or the "cloud". There are no "servers". There is no sharing of data except via the iTunes file sharing mechanism or via email. The data is stored exclusively on your iOS device. Everything you do is completely private to your device. There are no in-app purchases, and no advertisements.
Some of the features of MasterList are:
Each item has a name, contents and a type. Item types include:

A list, which may contain other items and lists. Lists can be nested to as many levels as your want.
A note, or long text document
A simple text item without a name, occupying one line
A named text item
A simple numeric item
A URL
A phone number
A date
An email address
A currency amount
A time of day
A date and time
A zero to five rating
A check box

MasterList supports many capabilities for managing and organizing your lists and list items. Some of the things you can do are:

move items and lists (including all sublists) to anywhere in the list hierarchy using cut and paste
duplicate items and lists
delete items and lists, and recover them from the trash if necessary
rename any item or list
rearrange the order of items in a list
email an item or a list
create and use Templates, which allow you to easily make items and lists that you use frequently
make and manage multiple separate databases
export databases for re-importing to another iOS device
export lists or items for re-importing to another iOS device or another database
print items to any AirPrint supported printer
convert any list or database to an HTML document which can be shared via the iTunes file sharing method, or emailed
search a database for any text string in the item names, or contents, or both

MasterList supports different "themes" or looks, a "dark" theme and a "light" theme.
MasterList is a universal app which works on iPhones, iPod Touches and iPads. On the iPad it provides a user interface designed to utilize the increased screen area.
The latest version of MasterList now supports iOS 7 and has a clean, modern look and feel. It also allows you to specify the colors of individual items and lists.
If you have questions, or have a problem, send email to support at morbiuslabs.com.
If you want to download MasterList click Here